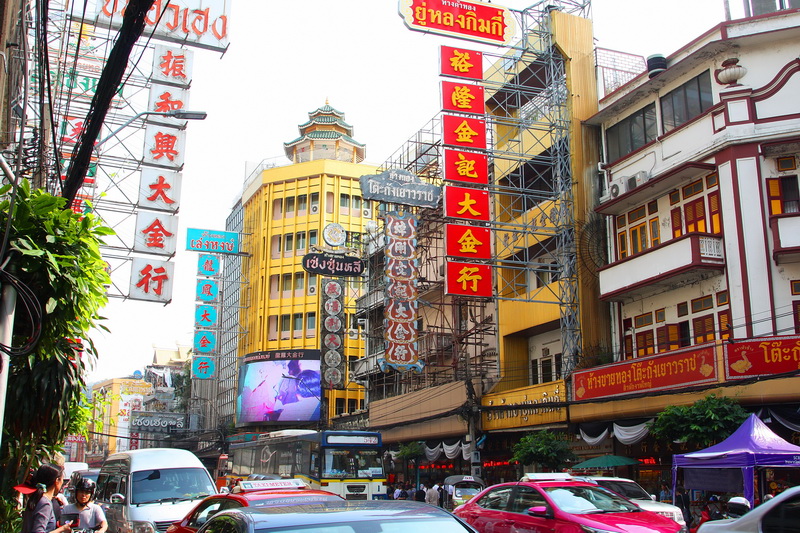 THAI BAHT GOLD CHAINS
23K GOLD
---
All Chains are Solid 96.5% Gold (23K)
Each one is custom made for you
Workmanship is the best Thailand has to offer
Since 1999
Current Thai Baht Gold Price Trend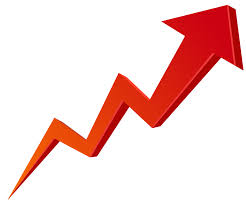 Home/Bracelets/Earrings/Thai Amulets/Clasps
Our 23K gold Thai Baht chains are made of 96.5% purity gold and custom-made for our customers. They are completely made by hand by experienced Thai goldsmiths who we have worked with for over 15 years. All chains are hallmarked with the makers stamp and or "Cast Mark" with the guaranteed purity of "96.5%".

We choose to display only photos of chains/necklaces we have actually made through the years for our customers. This way you can see the chains that are most popular and the true degree of workmanship that you can expect from us. You can also read the customer comments regarding many of these chains by visiting our "Testimonials" page. The average time to make a custom 23k gold Thai Baht chain of any weight or length is approximately 2 weeks but can take longer...up to 3 weeks depending on the work load of the maker and degree of detail in the link design. The end of January of each year is the busiest season due to orders for Chinese New Year.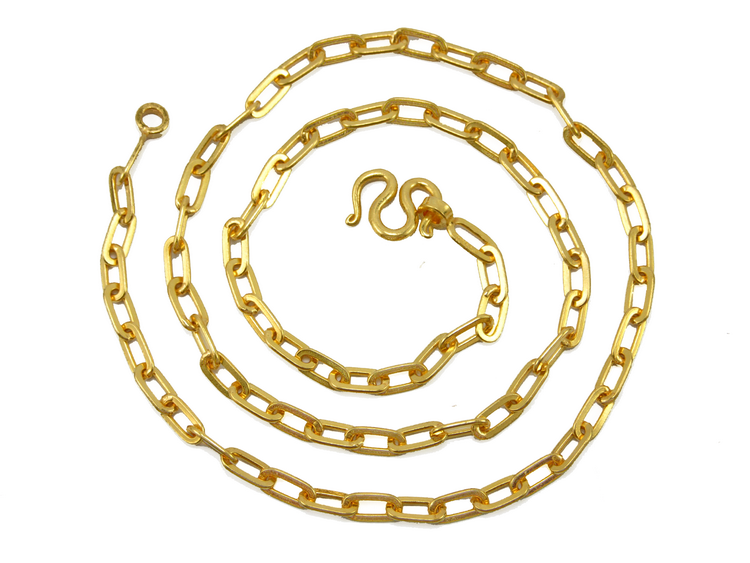 N1972 Gorgeous Men's rectangular link chain 20.75" long
Stunning Solid 23k gold in a two Baht (actual weight is 30.4 grams) weight and 20 3/4" length. The links are 4.5 mm x 9.2 mm and solid (not hollow). The links are highly polished although the photo looks otherwise. Incredibly strong chain and priced to sell. Special Price includes FedEx delivery!
Chain is in stock! $1680.00 delivered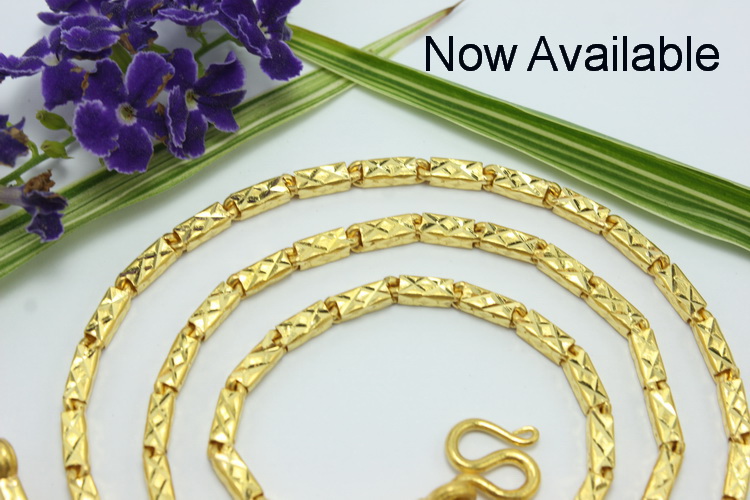 N1973 Bar-link xx diamond-cut
The above is an example of a 2-Baht (15.16 grams), XX diamond-cut bar-link chain in a 20" length. The link diameter is 2.4 mm. The finish is highly polished. Available in 16" - 30" length. An elegant, classy look that won't break the bank. Call me for more details on this unique piece.
---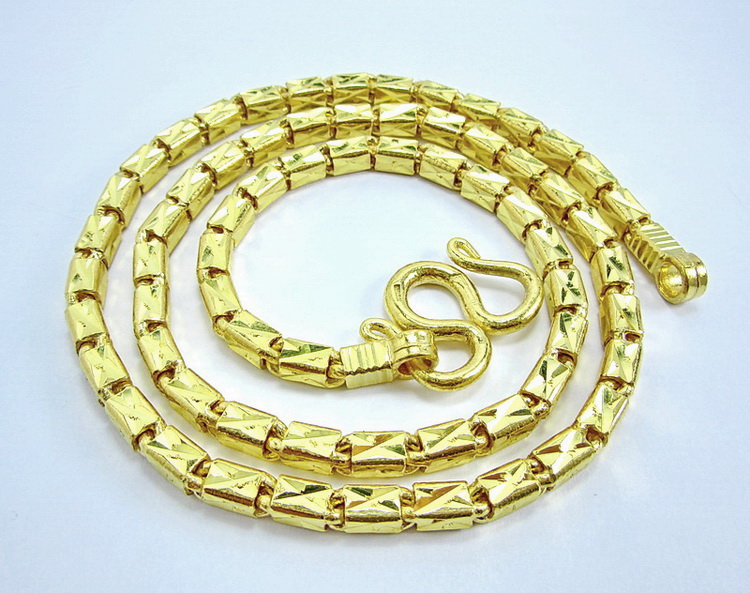 N1974 Bar-Link Diamond-Cut
The above is a recent sale of a 10-Baht (151.6 grams), diamond-cut Bar-link chain is a 24" length. The link size is 5.2 mm. Very substantial Thai Baht chain and the largest one of this style we have had made. This chain can be ordered in 1 Baht to 10 Baht. The customer comments from the buyer of this chain can be found in our "Testimonial" page.
---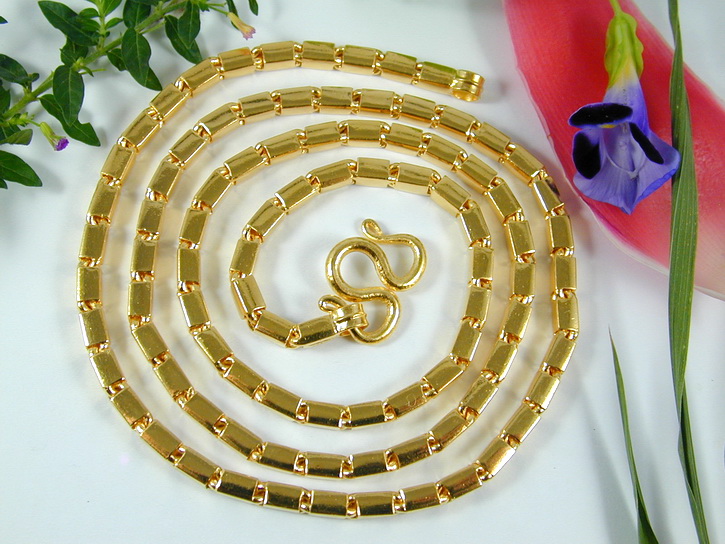 N1975 "Aviator Chain"

This the chain that most customer's contact us about. It is quite famous in Thailand but not to the Thai people but to Americans. Those of us who served during the Vietnam War remember it well. Pilots even today consider it a Thai classic chain they would not be without. It is available in 1-12 Baht weight and made in any length. The purity is 96.5% gold and comes with the appropriate size "M" clasp. This is definitely a classic Thai Baht chain. (The chain above is a 6-Baht)
---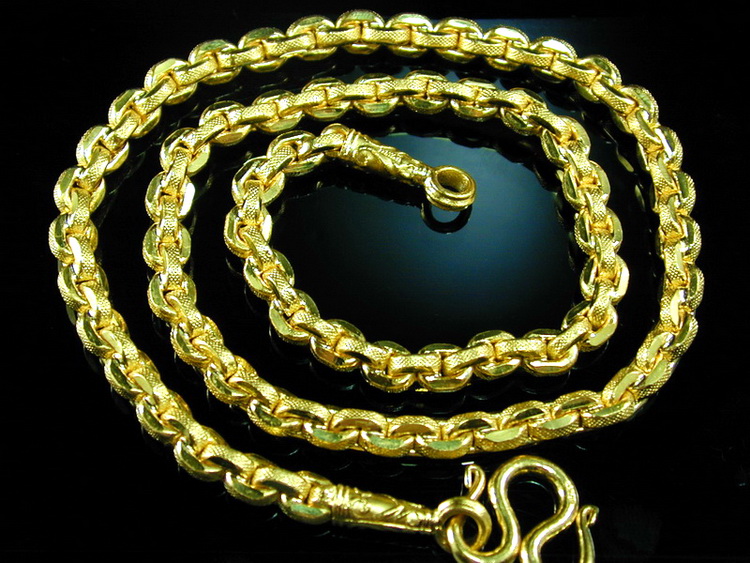 N1976 Filigree Anchor Chain
A very special Anchor link chain ordered last year. Very beefy link with beautifully applied filigree on each of the anchor links. We can only place an order for this in a 3 Baht minimum so keep that in mind when ordering. This one is a 10 Baht.
---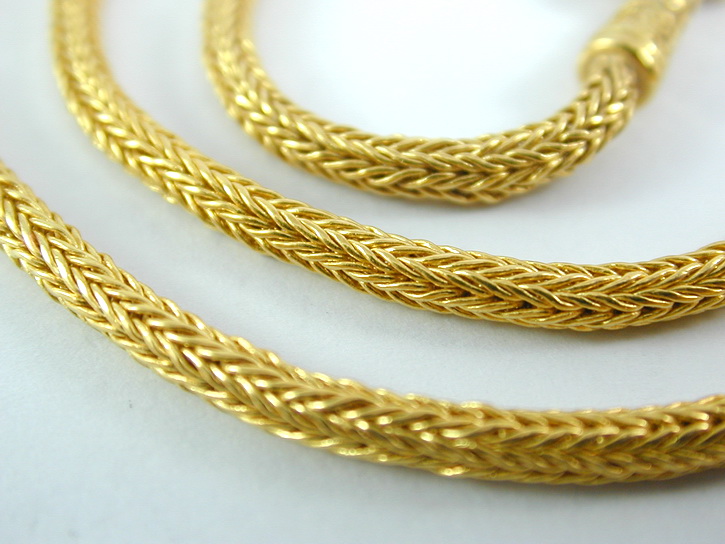 N1977 Braided Rope Chain
The Thai Classic braided rope style chains are exquisite here in Thailand. This "Hoc Sow" chain was hand braided with hand-pulled solid gold wire. The gold wire is solid 96.5% gold purity. This chain is a 3-Baht "Hoc Sow" style but the design can be ordered in weights of 1-Baht to10-Baht. We suggest weights to be two Baht and over due to the very small wire diameter of the lighter chains. Breakage of the fine wire can happen and is not repairable. We would have to remake the chain. The solid gold wire diameter in a two Baht hoc sow is more than adequate for the durability required for everyday use.
---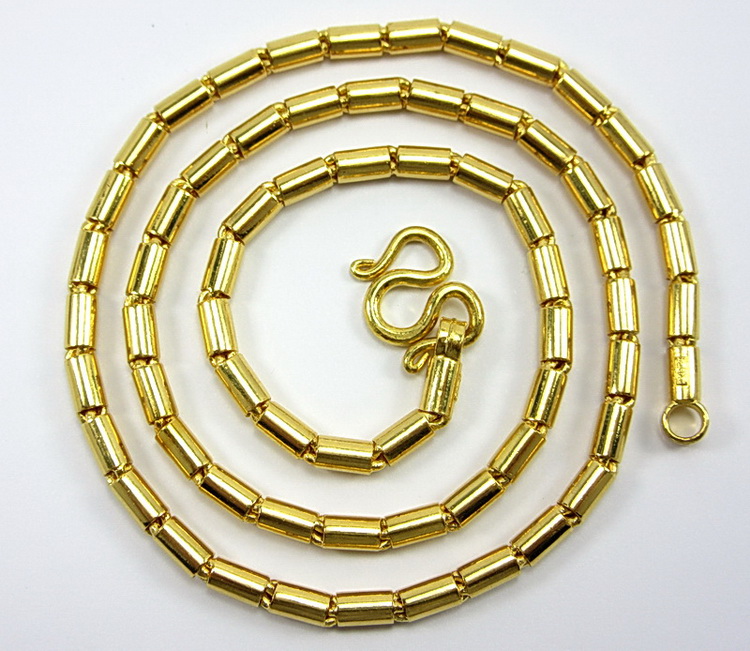 N1978 Barrel Link Chain
We call this a "Short Barrel link" chain. The links are short so it will wrap around the neck more uniformly. The Thai classic "Barrel link" is a very popular design and we have sold many in our many years of selling on-line from Thailand. Please call me if you would like any guidance on selecting a chain. The Classic Barrel link is available in weights of 1 Baht to 10 Baht and can be made to your desired length. This one is a 3 Baht, 3.8 mm diameter links, 20" length.
---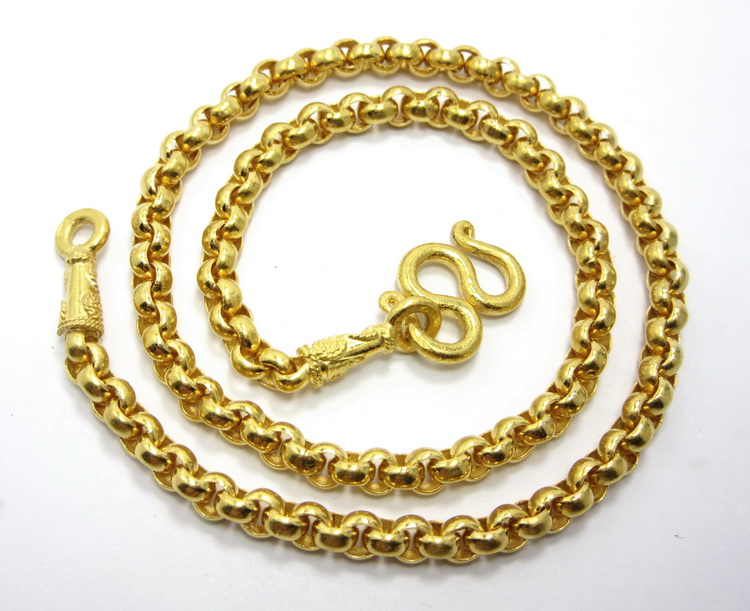 N1979 Rolo Chain
This is a highly polished Rolo-link chain in a 3-Baht weight. It's 17" in length and the link diameter is 5.5 mm. It had to be customized to this length since most heavier Rolo chains are made over 24" so they will fit over the head without manipulating the clasp. In this case the 5.7 gram clasp makes it easy to open and close. This chain is available in weights from 1 Baht to 10 Baht.
---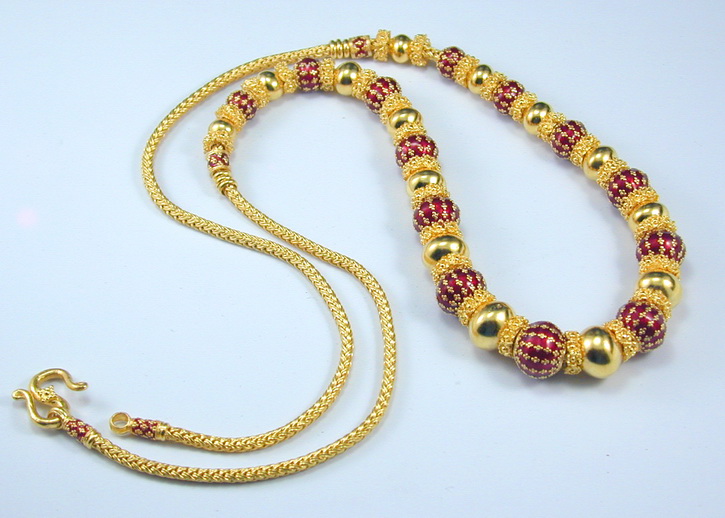 N1979 Sukhothai Beaded Necklace

The interesting difference between the Thai Baht style gold jewelry and the Sukhothai gold jewelry is in the purity. Sukhothai is always 99.9% solid gold. It is often enameled as this necklace is does not have to be enameled to be "Sukhothai". It has the finest workmanship available and this reflects in the much higher labor cost for this piece. Since the gold is 99.9% and the labor is higher you have to plan on approximately $70.00 more per Baht. Most Sukhothai items start at 3-Baht minimum but it is common to see 7-10 Baht necklaces that look exquisitely delicate. Also, it takes about twice as long to make these items so plan on approximately 5-6 weeks.
---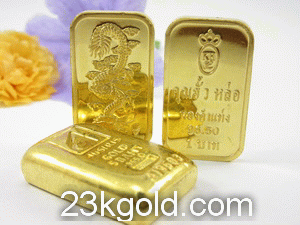 sales@23kgold.com
In Thailand Thai Baht gold chains are still made by hand. Talented Thai craftsmen work the almost pure gold into amazing designs acclaimed by the world as some of the finest gold jewelry available in the world today.
The Thai Baht gold available from 23kgold.com is considered traditional Thai style. Each chain is made of solid gold that is of 96.5% purity (a little over 23K). Thai gold is weighed in the "Baht" weight. One Baht equals 15.16 grams (about 1/2 ounce) When you purchase a Thai Baht gold chain, Thai Baht gold bracelet or Thai Baht gold Clasp you are purchasing the item by the weight at the price of gold on that day PLUS the labor cost to make it and any other acquisition cost to obtain it. You can easily evaluate the value of a Thai Baht gold chain by comparing the price of a lower karat gold necklace at your local mall. Most gold necklaces sold in the United Sates for example are machine made and of 14K gold purity (58% gold). One can quickly see the true value of the Thai Baht gold chain necklace in terms of cost per gram of almost pure gold.
Time to Buy!!
If there ever was a time to buy a Thai Baht gold chain it might be NOW!!
5 year Thai Baht Gold Prices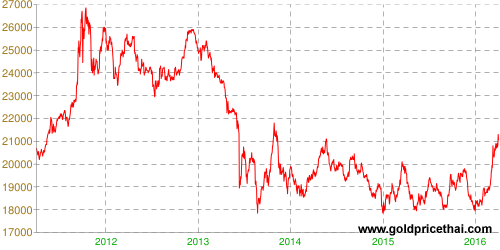 The price of Thai Baht gold fluctuates just like the International spot price of gold. The price of gold is reported to the gold shops in Bangkok about 3-times a day. The left column of the graph shows the price of the gold in Thai Baht ("Baht" is also the name of the currency in Thailand). In addition to the cost of the gold you must also pay for the labor as we mentioned before. The labor cost can vary depending on the design of the piece. Many goldsmiths these days will only make a design that is at least a 2-Baht in weight. Some goldsmiths will make a design as light as 1/4 Baht (3.79 grams) but they charge a substantial premium to make it. That's why the price of a 1/4 Baht or 1/2 Baht chain is always a higher per gram price. Cost is also affected by the exchange rate of the currency used to buy the gold. Based on the graph do you think it's a good time to buy Baht gold?
Other Cost
Has anyone mentioned "DUTY"?. In the United States the Generalized System of Preferences (G.S.P.) was renewed by the United States Congress retroactively and signed into law by the President on June 26, 2015 for a period of two-years. This A-7113.19 Harmonized Code is used on all of our documents related to the sale of Gold necklaces and chains made in Thailand. This "Duty Free" treatment of high karat gold chains and necklaces is applicable ONLY to gold chains and necklaces. Gold bracelets are not eligible. We do not guarantee that the US Customs inspectors, agents or sub agents unequivocally pass all gold items without requesting further information on the item before assessing duty. However, the Duty Free treatment of all high karat gold chains made in Thailand is now the law. More information on this can be read here: GSP TODAY
We ship only to the United States of America
Our cost to send a Thai Baht chain is approximately $95.00. For security reasons and as required by the insurers the item must be packed in a small FedEx box and then placed in a Medium sized FedEx box. Special attention is given to the description on the invoice and waybill not to make it obvious that the contents are valuable. We do not cut corners or try to make an extra dollar here and there when it comes to the security aspect of shipping something as valuable as Thai Baht Gold.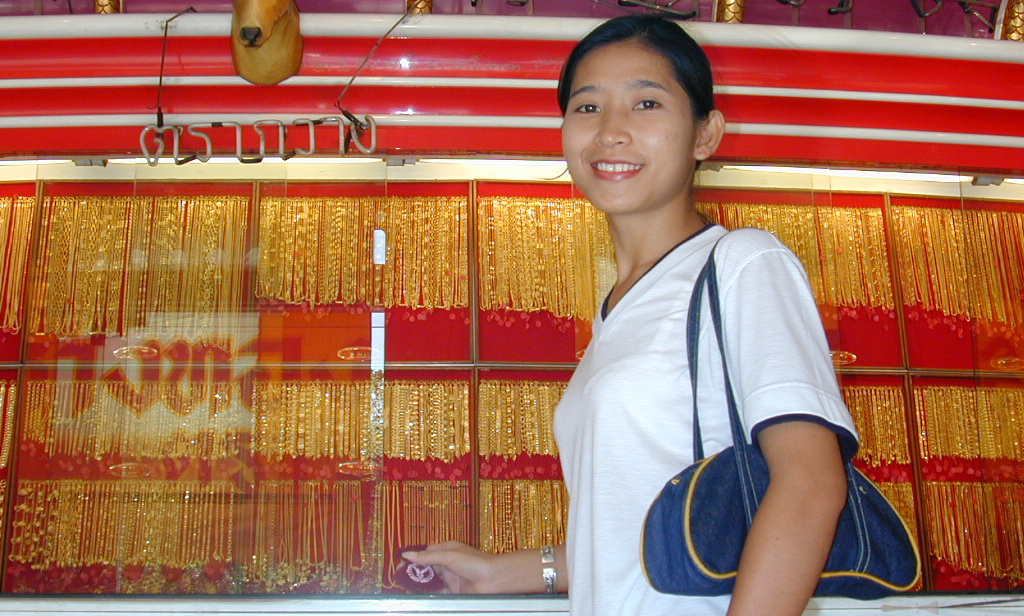 When we first started our website back in 1999 all of our items were sold from this gold shop. It was the only gold shop that would allow us to take photos. Now, years later....my wife is even more beautiful .....and we almost never buy a chain off the rack at the gold shop. All of our orders are custom made to the exact link style, weight and length requested by the customer. We promote link styles that we have made in the past so we can assure our customers of the high degree of workmanship.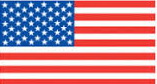 We are Americans and proud of it. We work with a very competent Thai staff in Bangkok. We have been in business for 16 years. In all of those years we have not learned much about website design or SEO techniques and we are certainly not wizards at e-commerce as almost anyone can tell. But we love what we do. We are really good at what we do. And we have a passion for conducting business from abroad in an honest and forthright way. Please see our "Testimonials".

The money that we earn completely funds our Bangkok animal rescue in Thailand. We rescue injured, sick, or unwanted animals from this very inhospitable environment. We nurture them back to health, take care of all medical issues, spay or neuter them and then find forever homes for them in Thailand.
We started the rescue during the "Great Thailand Floods" of 2011 when we witnessed the Thai people abandoning their homes and leaving behind all of their belongings including their pets so they could escape the rising water that eventually engulfed their homes and our home. By boat, my wife fed the animals who took refuge on the roofs of flooded homes and factories.
For information about our animal rescue please search Bangkok Cat Rescue on Facebook.